Well, prepare to be amazed, as TransWorld's HALLOWEEN EXTREME hits Orlando, May 24-26, 2013!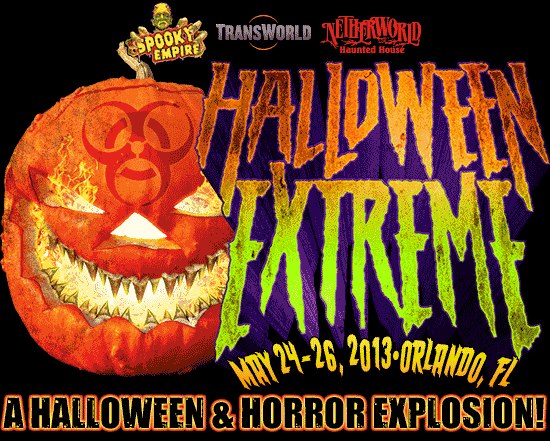 A Halloween, horror and haunted house extravaganza like nothing you've seen before, HALLOWEEN EXTREME grants unprecedented public access to movie- and theme park-quality props and effects, available for the first time at the consumer level. Home haunters and Halloween enthusiasts will now have the opportunity to obtain the very same items used by professional attractions and events the world over, allowing anyone and everyone to create a truly professional haunt experience. Co-produced by the twisted creative minds behind Netherworld Haunted House, this insanely unique event delivers three full days of EVERYTHING Halloween fanatics, haunters, and horror lovers could desire.
Open to the general public as well as industry professionals, HALLOWEEN EXTREME offers cash-and-carry and wholesale items for purchase, including animatronics, make up, costumes, masks and decor
In addition to exclusive access to high-quality props and effects, HALLOWEEN EXTREME also presents seminars, panel discussions, and demos. Everything is designed to assist haunters and hobbyists in designing and executing top-notch exhibits and events. There will even be a Zombie Prom, produced by the talented folks behind the Chicago Zombie Prom, where attendees can mix, mingle and brainstorm. Never has there been an event like this – pulling back the curtain to reveal and make available the magic behind Halloween- and horror-themed attractions. This is an exciting occasion for any and all who attend, from seasoned attraction designers to aspiring home haunt crafters!
To enhance the experience, HALLOWEEN EXTREME is co-located with Spooky Empire's MAY-HEM, a mind-blowing mix of celebrity appearances, memorabilia and collectibles vendors, live entertainment, films, autograph signings, artists, Q&A panels and more from the world of horror entertainment. Much more than a simple fan event, MAY-HEM is an incredible mid-season outlet for the eerily-inclined. Simply stated, it is the perfect celebration for fans who can't wait for October to deliver a healthy dose of fear. Prepare for a Zombie walk down International Drive, or take a seat in a charity poker tournament.
Enjoy all-night pool parties, a tattoo festival, author autographs and a creepy car show. There will even be cash prizes!
With the combined offerings of HALLOWEEN EXTREME and MAY-HEM, there has never been a more concentrated convergence of so many aspects of the Halloween and horror genre, with virtually every facet represented. This is the ultimate opportunity to immerse yourself in an all-encompassing weekend of form AND function, for fans of the frightful and fright-filled.
A fantastic rarity, HALLOWEEN EXTREME delivers a Halloween and haunted house trade show to an audience that has previously been unable to participate – you, the general public. Amateur Halloween aficionados will rub elbows with major haunted attraction owners as both shop for the very same props used in today's top-rated haunts and events. At long last, EVERYONE has the tools at their fingertips to present the most memorable Halloween ever, and enthusiasts of all ages are strongly encouraged to take advantage of this unique opportunity!!!